THE MALAWI BAKERY COMPANY
Educating and earning money locally in Malawi
creating jobs for students, their school fees and graduate employment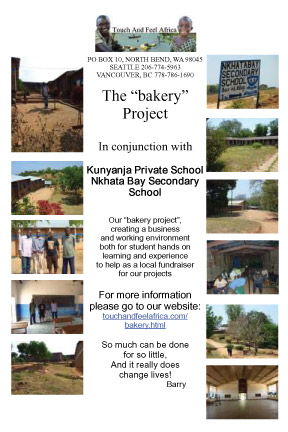 PROJECT OUTLINE

<![endif]>
bthorsness@ gmail.com    SEATTLE, WA  206-774-5963     VANCOUVER, BC  778-786-1690
THE MALAWI BAKERY COMPANY
Creating jobs for students, their school fees and graduate employment
Educating and earning money locally in Malawi
<![if !supportLineBreakNewLine]>
<![endif]>
Students learn:
<![if !supportLists]> ● <![endif]> how to work and take responsibility
<![if !supportLists]> ● <![endif]> to gain self confidence as they provide for themselves
<![if !supportLists]> ● <![endif]> how a business operates, how to run a business and keep business records
<![if !supportLists]> ● <![endif]> how to fund their own schooling fees
Why a bakery?
A simple bakery (creating donuts, pies (fruit/vegetable/meat) muffins, basic cakes), is relatively easy/inexpensive to build, especially in a country as poor and with as limited resources as Malawi.  It has relatively low startup costs and bakery products are easily adapted to suit the market.
The vision for the bakery
To create a bakery "kitchen" in the 6 largest cities in Malawi.  "Store fronts" will be a number of (large numbers) of small kiosk style " retail stores" in those cities as well as in neighbouring towns. This is reflective of a common business style in Malawi.
Student Employment
The focus of the bakery is to be able to offer flexible and creative employment opportunities for students.
What we want to accomplish
We plan to provide work and income for as many students as possible.  For graduate students, we would like to provide a hands-on basic business education which they can use to either to continue in the bakery business (owning a kiosk or bakery kitchen), or as a business background for their own entrepreneurial pursuit.  The business model would be much like that of a co-op.
Final Outcome
To have at least 6 bakeries in Malawi and 30 kiosk stores, employing a minimum of 150 people.  Wages for employees would be placed in student funds accounts and the profits from the overall bakery operation would be used to fund generalized educational projects determined by the bakery employees themselves and their advisers, and to grow the bakery businesses.
The process
The bakery will begin as a simple 1 or 2 oven endeavour, with a couple of small kiosk style "retail stores", staffed by one or two employees (students).  Much of the retail economy in Malawi is done in this manner.  In this way, we can get our "systems" working well in the Malawian economy, explore our market and "test" our bakery products.
As sales grow, demographics are proven, and the best selling/income generated products determined, the bakery will expand its "kitchen" area to a more efficient business and the number of kiosk stores.
Students support themselves and learn how to provide opportunities for others to do likewise.
Who are we?
Touch And Feel Africa
We are a group of Canadians, Americans and Malawians, all ages and from all walks of life.  Projects in Malawi are administered by "Touch And Feel Africa" – see www.touchandfeelafrica.com   We are a registered society with paperwork in the works for charitable standing in Canada.  We also work under the umbrella of The Malawi Education Foundation, a registered non-profit 501 (c) (3) of the Internal Revenue Code, registered in Washington State.
The bakery project - development and administration
Barry Thorsness – Touch And Feel Africa founder and business person, Vancouver/Seattle/Malawi
<![if !supportLineBreakNewLine]>
<![endif]>
Chrispin Gogoda – Chairperson TAFA, owns 2 restaurants in Mzuzu, Malawi, registrar at the Malawi Open University
<![if !supportLineBreakNewLine]>
<![endif]>
Madalitso (Medson) Mphande – Director/TAFA Malawi, trained in South Africa/certified chef and bakery.
Successful projects
Touch and Feel Africa is providing school funding for fees to students in the Nkhata Bay Area (see: http://www.touchandfeelafrica.com/students.html ), computers and internet at Kunyanja Private School, (see: http://www.touchandfeelafrica.com/kunyanjaPrivate.html ) computers at the Butterfly Space Media Centre, LED/solar lights for a study room at Mkondezi School, (see: http://www.touchandfeelafrica.com/lights.html ) and supplies for various schools such as paper, pens, notebooks, paint and blackboard paint and chalk.  We are currently working on a library project to provide students textbooks for their classes. (see: http://www.touchandfeelafrica.com/library.html )
Join us!!!
Would you like to be part of a dynamic group of people, bettering education and living standards in Africa?
Are you interested in helping build a project that is self sustainable, and creates ongoing financial resources for students and schools in Malawi?
Our Bakery Project requires $5000 to launch in 2012.  Will you help make it a reality?
DONATIONS are easy – just go to:  http://www.touchandfeelafrica.com/donate.html